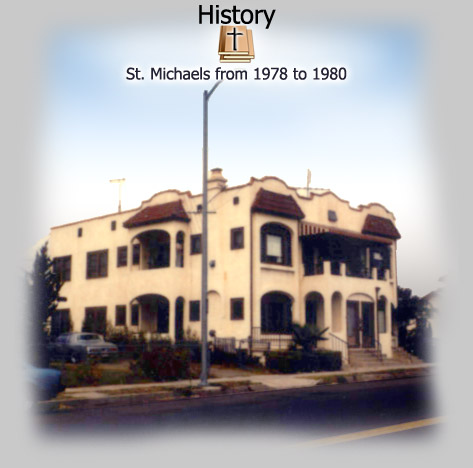 In October 1978 a small group of Evangelical Christians who were formally members of the Roman Catholic Church, returned to Catholicism and formed St. Michael The Archangel, Apostolic Old Catholic mission under the guidance of the late Bishop James Griffis.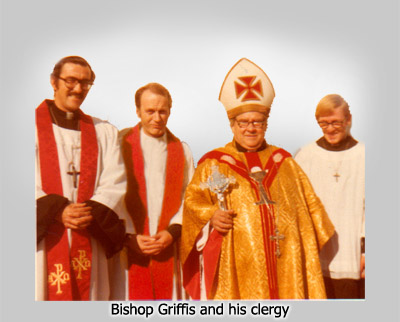 | | | |
| --- | --- | --- |
| | The original members of the clergy were Bp. James Griffis, Fr. Lewis E. McFall, Fr. John Stanisloe, Deacon Hans Bjoern Kroneberg and Deacon William Thompson. Bishops Ronald Bessler and Eugene Hite were supportive Episcopal visitors. Deacon Kroneberg was ordained to the sacred Priesthood on the 10th of March 1978 and appointed as the pastor of the newly formed Old Catholic mission parish. Fr. McFall the senior priest was consecrated to be Bishop of the mission, he went on to be with the Lord on the 3rd of March 1982. | |
His Holiness Mar Marcus I has exercised Episcopal service for us through the years even though he is of Eastern tradition. On the 26th of May 1984 we signed a deed of intercommunion with the California branch of the Western Orthodox Church under the leadership of the Most Rev Martin J. Hill. On the 18th of August 1986 after over 12 months of negotiation we were officially received as a mission parish into the historic North American Old Roman Catholic Church by the late venerable Bishop James Rogers.

There have been three secretaries at St. Michael's. Brother Clyde Jump was the first. He went to be with the Lord in 1984. Mrs. Anita Saxton was secretary from 1984 until 1988, when she moved with her family to the Moreno Valley. Brother Charles Therminy became the Church Secretary in 1995. He has been in that position for over twelve years. His wife Nydia prepared and published our bi-lingual pew Missal. Since 1993 Mrs. Aurora Pelayo Arslan has been the Church coordinator of ecumenical and social affairs.

From 1978 until 1984, Father Joseph Palumbo, Father William Payton, Father Stephen Gregory and Father Kenneth Ciccarelli served as pastors at St. Michael's. In 1994, Father Eric Ong Veloso started helping occasionally. On the 3rd of August 2003, he accepted the position of pastor of the mission.

Bishop Hilarios Unger from Munich Germany was welcomed as an Episcopal visitor and he administered the sacraments from 2nd of August 1994 to the 3rd of November 2002. Bishop Robert has been an Episcopal visitor and he has administered the sacraments on a number of occasions ever since the 7th of August 2005.

Former clergy who have served at St. Michael's were: Deacon William Thompson, Deacon Richard Smith, Deacon Gary Seal, Deacon Sergio Gomez , Deacon Alfonso Ortiz and Cleric Julio Mora. Clergy in minor orders serving at St. Michael's for over ten years to the present are : Deacon Jean Pierre Arslan, Deacon Manolo Guerra, Deacon-elect Dong Joo Kim. Deacon-elect Miguel Chavira who served at the Altar since 1992, went to be with the Lord on the 20th of May 2005. May his precious soul and all the souls of the faithful departed, through the mercy of God, rest in peace!

From October 1978 until January 1980 St Michael's was located at 1157 North Bronson Ave in Los Angeles. From January 1980 to the present (2007) we have been privileged to share facilities with Hollywood Lutheran Church, 1733 North New Hampshire Blvd., We have had the added privilege of participating with Hollywood Lutheran Church at various ecumenical liturgical functions. Pastor John Wagner, Pastor Jim Boline and Pastor Daniel Hooper, all HLC pastors, have participated at St. Michael's . Rev. Tomi Thompson and his wife Dixie participate fully every Sunday at both Hollywood Lutheran and St. Michael's in a Christ centered ecumenically progressive effort.

To be continued...